The Coin Leaks News:Twitter (NYSE:TWTR) shares rose as high as 30% premarket trade following Elon Musk's 9.2% recent holding in the US social media giant. This prompted discussions about whether the price for billionaires' favorite cryptocurrency, Dogecoin, (DOGE), will rise as a result.
#Twitter shares jumped as much as 30% in US premarket trading after Elon Musk took 9.2% stake in company. Move comes after Musk last mth polled his >80mln followers on Twitter, asking them whether social-media comp adheres to the principles of free speech. (BBG) pic.twitter.com/wjIrqbzpVj

— Holger Zschaepitz (@Schuldensuehner) April 4, 2022
The announcement that Tesla CEO Elon Musk would be Twitter's largest shareholder (NASDAQ: TSLA), sent the meme currency soaring to 8.36%. According to CoinMarketCap statistics, it traded at $0.153 and 2.89% the week before.
Dogecoin's market cap jumped by more than $1.5 billion in just one hour, as its price rose from $0.1431 up to $0.155.
Musk's support of DOGE
Elon Musk has repeatedly expressed his admiration of the original meme coin, from bizarre endorsements to integrating DOGE in payments for Tesla's merch.
Many speculated that he might make Dogecoin-centric development on Twitter after his investment in the company.
Tim Pool, journalist and crypto advocate, stated:
What if Elon Musk takes over twitter then demands that advertisers buy ads in Doge

— Tim Pool (@Timcast) April 4, 2022
Musk had previously used the platform to survey his 80 million followers on March 25 to find out if they believed Twitter adhered to the principle of "free speech essential to a functioning democracies".
Musk also stated that any social network that he joins would include a digital tip-jar that would support Dogecoin, a meme-inspired cryptocurrency.
Twitter tipping jar
It is worth mentioning that the cryptocurrency world was thrilled when Twitter activated the tipping jar function. Ethereum (ETH) is the latest member to join Bitcoin (BTC).
Dogecoin's community has responded to this by flooding Twitter with petitions, hashtags, and requests for DOGE to be added to the list.
Billy Markus, co-founder of Dogecoin, joined the party. More than 8,000 people signed a petition entitled "Add Dogecoin wallet support to Tipping feature on Twitter."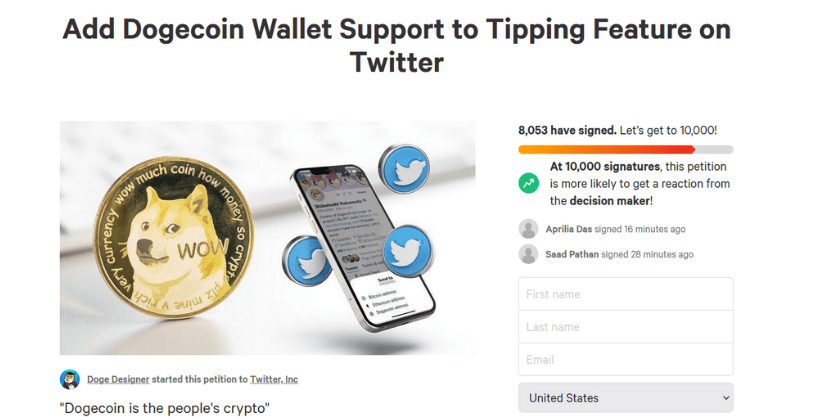 Dogecoin supporters, who hope that the upward trend will continue, would welcome the latest news.
Crypto trading specialist Ali Martinez stated that Dogecoin could rise to $0.21 "without hesitation", even before recent Musk news.